Bespoke Practical Training Courses in Port Solent, Portsmouth, Hampshire, UK
Have you been out of the game for a while? Do you have a new crew member? Have you up or down graded?
Maybe its just a brush-up on the basics such as Time and distance or chart work (a common thing now that we live in a GPS world).
Whatever your needs are we can arrange training to suite those needs.
Although we are based in Port Solent Near Portsmouth we shall be only to pleased to come to you.
Should you wish to train on your own boat use one of our school boats or just classroom work.
Rates will be set once we understand your requirements.
For more information contact Cliff on +447767398892 or This email address is being protected from spambots. You need JavaScript enabled to view it.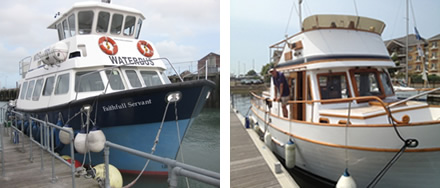 Course Payments
A payment of 25% of the course cost is required to confirm the booking and full payment one week prior to the course start date.
Payments can be made by
Bank Transfer:
Card Payment: Debit cards no extra small admin charge for credit card payments
Cash payments: on request